Lancaster County
Lancaster County and the City of Lancaster are rich in history - from the Revolutionary War period, the Antebellum South, the Civil War, to the modern era where the community became home to one of the largest textile companies in the world.
Downtown Lancaster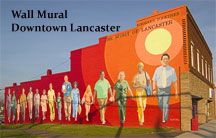 The City of Lancaster, a beautiful historic town of approximately 10,000 residents, has retained its Southern hospitality and charm. The City was home to the Springs Family, the founders of Springs Textile Company, one of the world's largest textile manufacturers. Springs Textiles remains in operation today and there are several beautiful old mills in the area to view as well as the former Springs home which is located downtown and is now the home to the Lancaster Council for the Arts.
Lancaster serves as the County Seat of Lancaster County and the historic Lancaster County Courthouse, constructed in 1828 and designed by renowned architect Robert Mills whose work includes the Washington Monument, the U.S. Treasury Building, and several Courthouses across the South.
The Courthouse is currently undergoing major repairs after an arsonist set fire to the structure in the fall of 2008. However, the outside of the structure remains with most of the damage inside the building. Plans call for the Courthouse to be restored to its original grandeur and serve as a museum and site for community events. Below are pictures prior to the fire and a photo of the building as the Lancaster Fire Department fought to save the most historic structure in the County - a building that neither Sherman's Army nor a modern-day arsonist could destroy.
Famous Lancaster County residents include President Andrew Jackson who was born in northern Lancaster County; Colonel Leroy Springs, who earned fame as a World War I flying ace and later the founder of Springs Textile Company; Astronaut Charles Duke who visited the moon on Apollo 16; and 2004 Olympic Gold Medalist sprinter Shawn Crawford, to name a few.
USC-Lancaser Performing Arts Series at Bundy Auditorium
Fast becoming one of the most popular venues for entertainment is the USC-Lancaster Performing Arts Series at Bundy Auditorium. Throughout the year, the facility on the campus of the University of South Carolina at Lancaster serves as host to top name entertainment. Past shows include visits from 3 Dog Night, The Fifth Dimension, and Chairman of the Board, among others. The newly renovated auditorium is only 5 minutes from Kilburnie. For more information about upcoming shows and tickets visit their web site by clicking here.
Downtown Area Shopping
Downtown Lancaster recently received a facelift with the completion of the City's streetscape project. New sidewalks, building facade improvements, landscaping, and lighting have improved upon the charm of the City. Plus, visitors are made to feel welcome anywhere in Lancaster, especially in the downtown area where you can take a historic walking tour, visit a quaint coffee house, shop our unique shops, or take in dinner or lunch. Like most small Southern towns, Lancaster has its mix of quaint specialty shops, antique stores, and other interesting establishments. The Main Street corridor of downtown Lancaster, from the historic Robert Mills Courthouse to the L&C Railroad headquarters, has several shops to keep you busy. You can learn more about what's available to you and what's going on in downtown Lancaster by visiting our tourist information agency and their web site at SeeLancaster.com.
Downtown & Area Dining
From fast food to Southern and Low Country cuisine, you can find it in Lancaster County. The City is blessed with several restaurants that offer great meals for breakfast, lunch or dinner. Visitors to Kilburnie who have visited Lancaster sing the praises of many of our restaurants especially;
Charley's Cafe & Catering, located on Main Street, offers wonderful dining in a historic building with a menu that will keep you busy in trying to figure out what to order. American, Southern, Italian, and South Carolina Low Country fare dot the menu and there is a full-service bar. Plus, don't forget to try their delicious homemade desserts. Other eateries that claim distinction include:
521 BBQ is located north of Kilburnie on U.S. 521 in the Indian Land community near Charlotte. The restaurant offers Southern BBQ and other American fare.
The Catawba Fish Camp offers a true Southern fish camp experience just 10 miles from Kilburnie on SC Highway 9 West just across the Catawba River from Lancaster County. There are several other eateries in Lancaster County to choose from including establishments that offer American, Mexican, Chinese, and home cooked meals as well as chain restaurants including Applebee's, McDonald's, Wendy's, Burger King, and Hardee's.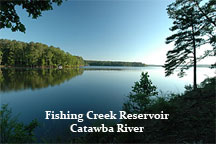 Festivals & Events
Not a month goes by where there isn't a festival or event to attend in Lancaster County. Some of these festivals include: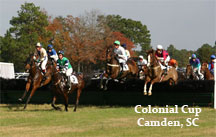 Andrew Jackson Birthday Party
Andrew Jackson State Park
9 Mi. N. of Lancaster on Hwy 521
Annual festival focuses on the history of the Revolutionary War era, with re-enactors, living history demonstrations of life during Colonial times, children's Colonial games, food and more.
Carolina Legends Festival
Andrew Jackson State Park
9 Mi. N. of Lancaster on Hwy 521
Held annually the Saturday before Mother's Day. Celebrates bluegrass, traditional mountain and folk music. Performances all day in the amphitheater, plus 'parking lot pickin,' music workshops, children's activities and food. Co-sponsored by SCPRT and the Lancaster County Council of the Arts. Details, call 803.285.7451.

Indian Land Spring Festival
Indian Land Elementary/Middle School Doby's Bridge Rd., just off Hwy 521 Annual spring festival held in early April features children's games & rides, food, arts & craft vendors, live entertainment and more. Proceeds go for school educational projects. Sponsored by the ILEMS PTA

Art Expedition
Bi-Annual Art Crawl, held April and October in downtown Lancaster. Visit galleries, downtown merchants and restaurants featuring art, pottery and sculpture by local artists. Snack on luscious hors d'ouevres and sip from a glass of wine or punch as you browse through your tour.

Lilyfest
Landsford Canal State Park
1989 Park Drive, Catawba, SC 29704 (803) 789-5800
Held in mid-May, the annual Lilyfest celebrates the peak bloom period of the Rocky Shoals Spider Lily. Live entertainment, food, educational displays and of course, a hike to the overlook to view the lilies.

Kershaw Hog Jam
An annual BBQ Cookoff Competition in the Town of Kershaw in southern Lancaster County just 15 minutes from Kilburnie. This festival is fast becoming a favorite in the region with lots of BBQ & fixin's. Cookers from around the Carolinas compete for trophies and cash prizes.

Friday at Last
Held last Friday of May, June & July - live entertainment, children's games and activities, dancing, food and more. Host city progresses from Lancaster to Heath Springs to Kershaw. Details, call 803.286.1145.

Charlesboro 4th of July Parade
Annual parade & family style gathering on Taxahaw Rd in Southeast Lancaster County. Lineup starts at 9 a.m. Open to any vehicle displaying an American Flag. Parade-watchers, bring lawn chairs and stay awile!.

Heath Springs 4th of July Celebration Food, children¹s rides and games, an evening parade and street dance, capped off with fireworks. Unity in the Community Downtown Lancaster Held annually in June, with sports competitions, activities, games and food. Sponsored by Lancaster Fatherhood Project. Details, call 803.283.3444.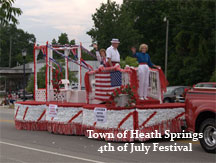 Celebrate Van Wyck Festival
Annual fall festival with Crafts, food, rides, car show, children's activities, live entertainment and more.

Christmas Parade & Christmas Happening Downtown Lancaster. Annual Christmas parade, live entertainment, games, children's activities, crafts & other vendors, food and more. Co-sponsored by the City of Lancaster & See Lancaster.
Ride...or Learn to Ride!Leg Up Equestrian is a Combined Training (dressage, jumping, cross-country) and Horse Mastership School, located just 20 miles north of Kilburnie on U.S. Highway 521 . The school is situated in a beautiful, quiet, pastoral setting with open grazing pastures and wooded acreage. With a primary focus on teaching, training and learning, our riding programs have earned us a solid reputation in the equestrian community and praise among our many friends and long-term clients. Learn more at their website at: www.legupequestrian.com
Soar the Skies!
So you've never air glided? Many of us haven't but it is an excursion you might well enjoy. Bermuda High Soaring School is a flight training facility totally dedicated to promoting all aspects of the sport of soaring. Originally started in 1963 by Mr. Stan Hoke in Chester, SC, Bermuda High has grown to be the largest soaring operation east of the Mississippi.
Auto Racing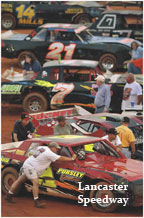 If you enjoy racing the way is used to be, the Lancaster Speedway is truly the "Grand Daddy" of local tracks. It's one of the oldest surviving dirt tracks in the south. It was built by a group of Lancaster men headed by the late Herman "Hump" Poovey. The first race was held in 1954 with a huge crowd on hand. The track hosted two Nascar races in 1957. The track is just 2 miles from Kilburnie just off U.S. 521. You can learn more at their website: www.lancasterspeedway.net.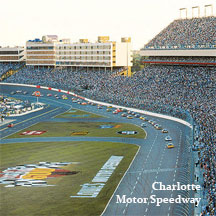 Carolina Motorosports Park is a premier road course that offers driving opportunities and spectator opportunities throughout the year. The road course is located 20 miles south of Kilburnie, 3.5 miles south of the Town of Kershaw on U.S. 521 South. For a schedule of events, visit their website at: www.carolinamotorsportspark.com.
The Region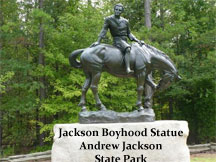 Within a 30-minute to 1-hour drive of Kilburnie you can find historic sites, artistic and cultural events, museums, professional sporting events, outdoor recreation, theme parks, water parks, and a host of other exciting recreational venues. From Historic Camden to the beautiful skyline of Charlotte, you are only a short drive away.
Historic Revolutionary War Sites
The Lancaster County and Upstate Region of South Carolina has several Revolutionary War battlefield sites and historical markers. Many of the major battles of the American Revolution were fought within a short drive of Kilburnie inlcluding the Battle of Camden (less than 45 minutes south), the Battle of Cowpens in nearby Gaffney, S.C. (one and a half hours west), and the Battle of Kings Mountain (1 hour west). The major motion picture The Patriot, starring Mel Gibson, was filmed at nearby Brattonsville - a restored 18th century farm and the site of the Battle of Huck's Defeat. The Museum of York County in Rock Hill is also an interesting visit. There are also dozens of historical markers throughout the region depicting historic events of the region since the Revolution. You can visit the Olde English District web site for more Revolutionary War sites and other sites of historic interest in the area. You can also visit the official South Carolina Department of Parks Recreation and Tourism site devoted to the Lancaster area.
Civil War Sites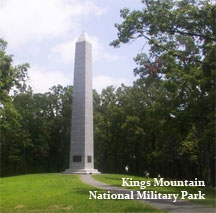 South Carolina was the first state to secede from the Union during the Civil War and the entire state has many historic sites to choose from that are connected to the War Between the States. In nearby Fort Mill (30 minutes north), President Jefferson Davis and his cabinet, fleeing from Union forces, met for the last time at one of the antebellum homes in this beautiful small town. General Sherman on his march through South Carolina into North Carolina split his forces in Lancaster County at the Catawba River, sending one force northeast to Cheraw, and another force to Camden. Historic Charleston is 2.5 hours south along Interstate 77 and Interstate 26 and is one of the most historic cities in America. Columbia, the capital of South Carolina, is less than 1.5 hours from Kilburnie.
Shopping
If shopping and dining is your bag, then you will enjoy downtown Lancaster as well as the major shopping centers in nearby Charlotte (45 minutes north). Carolina Place Mall (35 minutes north in Pineville), SouthPark Mall (45 minutes north in south Charlotte), and Uptown Charlotte boast some of the best shopping in the Southeastern U.S. An easy 20 minute ride brings you to Waxhaw, NC home to Rippington's restaurant.
Dining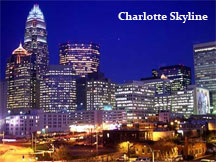 Charlotte is the new home to the new campus of Johnson & Wales University which has led to an increase in fine dining restaurants throughout the City. From uptown Charlotte, to South Boulevard, to the Southpark section of the City, there are literally dozens of outstanding places to dine. Our guests list these among their favorites:
Miro Spanish Grill
7804-A Rea Road , Stonecrest at Piper Glen Charlotte, NC 28277
Named for the Spanish Surrealist artist Joan Miro, this city favorite is home to outdoor dining and Spanish cuisine and appetizers that have hit many a citywide 'Best' list, including AOL CityGuide's.
Firebirds Rocky Mountain Grill
7716 Rea Road, Charlotte, NC 28277
Phone: 704.752.7979
Located in the Stonecrest Shopping Center just north of Ballantyne and approximately 45 minutes from Kilburnie, The combination of bold flavors, sauces and spices create a unique style of American cuisine that originated in Aspen, Colorado. Specialties include steaks grilled over the open flame, herb roasted prime rib, fresh seafood, rotisserie chicken, homemade pasta, awesome burgers and giant salads. Founded by owner, Dennis Thompson, the ambience of Firebirds is every bit inviting as the food.
Catawba Fish Camp
6131 Lancaster, Highway
Fort Lawn, SC 29714
Phone: 803 872-4477
If you want to enjoy a true Southern fish camp, the Catawba Fish Camp, located on SC 9, just across the Catawba River is the place to be. Offering some of the best fish and seafood and all the fixin's Southern style, the Catawba Fish Camp has been a favorite of locals for years.
In 1951 Pleasant Baker, and his partner Jim, opened the Catawba Fish Camp. The original restaurant seated approximately 100 people. For the next 10-15 years, the menu only had five items, perch, catfish, fantail shrimp, whole flounder, and chicken. Perch was $1.00 for "all you can eat", catfish was $1.25 and Included slaw, hush puppies, and French fries. The entire staff was male until the early 1960's.
The restaurant has continued to grow and can now seat over 550 people. We are open Wednesday through Saturday. Many of the menu items are all you can eat for one price. Although the line may appear long, it moves really fast. In short, Charlotte has hundreds of restaurants to meet any taste.
Arts & Culture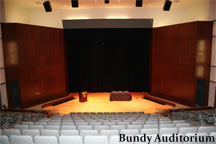 If you enjoy visiting art galleries, museums, and other artistic an cultural events, the Charlotte metro area has a full slate of events throughout the year. The Mint Museum of Art, Discovery Place Museum, the Blumenthal Performing Arts Center and other cultural centers abound. Visit the Charlotte Convention and Visitor's Bureau web site for more info.
Carowinds Theme Park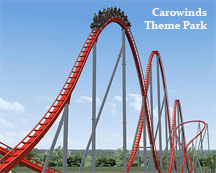 Paramount's Carowinds Theme Park is less than 40 minutes from Kilburnie. Carowinds offers both adult and children themed rides and entertainment that includes roller coasters, and other rides and a new waterpark.
Professional & College Sporting Events
Charlotte is home to the NFL's Carolina Panthers which play their home games at Bank of America Stadium- less than an hour from Kilburnie. Other professional teams in the metro area include the Charlotte Knights AAA baseball team that plays in Fort Mill (45 minutes away), the Charlotte Checkers ECHL Hockey team (45 minutes), If that wasn't enough, Lowe's Motor Speedway, home three NASCAR auto races each year, is less than 1 hour from Kilburnie. The NBA's Charlotte Bobcats play their games in the new Bobcat Arena downtown which also hosts several top-name music and entertainment concerts each year.
Charlotte is also home to the University of North Carolina-Charlotte 49'ers which play NCAA Division I basketball in the Atlantic 10 Conference.
State Parks
If you love visiting beautiful state and federal parks, you're in the right place. Andrew Jackson State Park, named in honor of President Andrew Jackson who was born nearby, is less than 5 minutes from Kilburnie and offers walking trails and picnic areas. Chester State Park in nearby Chester is less than 30 minutes from Kilburnie, and you won't want to miss Landsford Canal State Park which is less than 30 minutes from Kilburnie. Each spring, Landsford Canal State Park, located on the banks of the Catawba River, comes alive with hundreds of visitors who come to view the beautiful spider lilies that come to life in the shallow rapids of the Catawba River. Other state parks that are nearby include Kings Mountain State Park (45 minutes west) and Lake Wateree State Recreation Area (30 minutes south).
The Catawba River The Catawba River flows along the entire eastern border of Lancaster County and offers water enthusiasts with a multitude of recreational opportunities including canoeing, kayaking, boating, water skiing, swimming, and fishing. Lake Wateree is located in extreme southern Lancaster County and Fishing Creek Reservoir is located just south of the City of Lancaster.
Jaars Alphabet and Mexico-Cardenas Museums 7405 Jaars Rd, Waxhaw, NC 28173 Mon. thru Sat. 9:00am to 4:00pm visit their website at: www.jaars.org Details, call 800.890.0628