Kilburnie
The place to stay when visiting Lancaster, SC
A welcoming and luxurious Bed and Breakfast Inn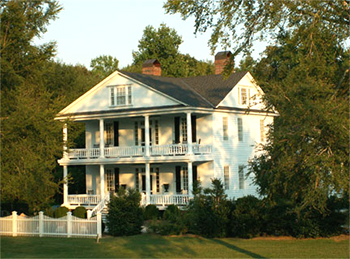 Originally located downtown Lancaster, Kilburnie was saved in 1998 from the wrecking ball and moved to historic Craig Farm where it underwent extensive restoration.
Kilburnie's rich history and architectural significance warranted the enormous and expensive undertaking.
The quality of the restoration is best reflected in the intricate ceiling details of the Kilburnie's public rooms , a stunning accomplishment by nationally known local artist Jim Shore, who also painted portraits of Andrew Jackson, George Washington, William Richardson Davie, and other pictures gracing Kilburnie's walls.
See ETV interview with Johannes at http://www.youtube.com/watch?v=oh2feCQtjDc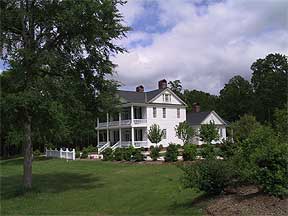 The restoration of Kilburnie allowed the owners to install new wiring, top of the line plumbing, and all modern amenities expected by today's sophisticated travelers. Guests will find Kilburnie immaculately clean, uncluttered and lovingly cared for.
Kilburnie's beauty is transformed each season making it a popular place to visit anytime of the year.
Kilburnie, now in its sixteenth year of continued success. The owners are grateful to the support of our regular guests and are proud of the positive "Word of Mouth" spread by them. Thank you!