Robert Mills/Palladio Room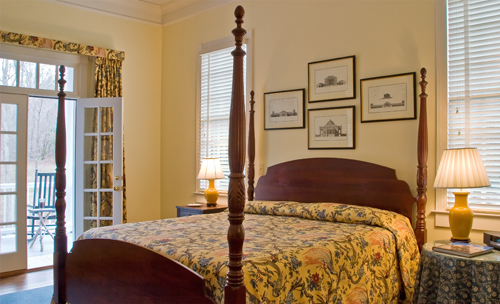 This room is dedicated to the great 16th century Italian architect Andrea Palladio who translated the classical styles of ancient Greece and Rome into a domestic idiom, and to Robert Mills - the nation's first trained architect, who played a major role in bringing the Palladian style of architecture to America. A native of South Carolina and the architect of the U.S. Treasury building and the Washington monument in Washington, Mills designed Lancaster's magnificent courthouse and jail. Originally located only a block away from the courthouse and built shortly after that building's construction, Kilburnie owes a great deal architecturally to the example set by Mills, and through him, Palladio.
The old prints in this room are all architectural, and include many of Palladio's villas in northern Italy, as well as English dwellings of the 18th century built in the Palladian style. A marble bust of President Thomas Jefferson is a reminder that his Monticello and University of Virginia creations were drawn from the Palladian mold. On the mantle you'll find a piece of art glass made by Dale Chihuli.
The furnishings include a circa 1840 chest of drawers, a gas log fireplace flanked by comfortable wing chairs, an antique heart-pine mantle, and a comfortable four-poster king-size bed. This room also contains a writing alcove with a nineteenth century writing table and window view of the woodlands surrounding Kilburnie. The spacious and luxurious bathroom has a large hydro therapy whirlpool bath, and enclosed shower separated by a pocket door for privacy.
Guests lodging in this room have direct access via French doors to comfortable rocking chairs on the private back porch, overlooking the back garden and woodlands.
Room

Location
Weekday Price
Weekend Price

Robert Mills/Palladio Room

1st Floor Right
$169
$189
Accommodations:
https://resnexus.com/resnexus/reserve/?ID=1322