Governor William Richardson Davie Room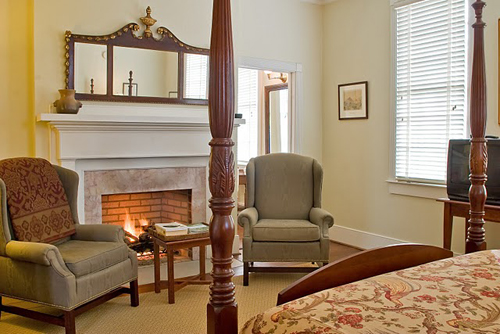 This room is dedicated to Governor William Richardson Davie, who grew up in the Waxhaws just a few miles from Kilburnie. General Davie played a leading role in the nearby Revolutionary War battles that led to Cornwallis's loss of the Carolinas and retreat to Yorktown, VA. Davie became governor of North Carolina, founded the University of North Carolina, and was U.S. Minister to France after Jefferson. He is buried at Old Waxhaw Presbyterian Church cemetery.
A portrait of Governor Davie is by famed artist Jim Shore, based on an 1835 engraving of a VanderLyn pencil drawing. In addition to a gas log fireplace, the furnishings include a circa 1840 chest of drawers, a cherry wood armoire crafted by Bill Craig, two cozy fireside wing chairs, the original carved mantle, and a four-poster queen-size bed. The floors throughout this suite are the original heart-pine.
The collection of rare old prints in this room depict Revolutionary War scenes, including two unusual colored etchings of the massacre by British Colonel Tarleton of local partisan troops at Buford battleground, maps of the battle of Camden, and a Courier and Ives print of the announcement of the surrender of Cornwallis. Guests lodging in this room have easy access to the comfortable rocking chairs on the second story front porch, which has a grand view overlooking the bucolic Craig Farm and historic Craig House.
The spacious and luxurious bathroom has two pedestal sinks, a large hydro therapy whirlpool bath, an enclosed shower, and a gas log fireplace with the original heart-pine mantle.
Room

Location
Weekday Price
Weekend Price

Gov. William Richardson Davie Room

2nd Floor Right
$169
$189
Accommodations:
https://resnexus.com/resnexus/reserve/?ID=1322